PARIS.- Vladimir Poutine been repeating for ten years that Russia has the second most modern military power on the planet. However, plagued by corruption, deceived by mirages of conflict very different from the war in Ukraine, the Russian armed forces reveal their immense weaknesses. So much so that Western experts already ironically call it The Potemkin army.
On March 1, 2018, thunderous applause rang out in the Manège, a historic building a stone's throw from the Kremlin where, in a Jupiterian spectacle, Vladimir Poutine showcased the country's military progress: nuclear-powered drones, hypersonic defense systems "that follow their targets like a meteorite", doomsday weapons "that no one in the world has"… The Russian president seemed to have no limits: he showcased the military excellence of the Kremlin so well that most pundits came to believe him. The 1,500 guests of the Russian political-economic elite were in glory.
Four years later, Putin himself was thrown into the reality of war, when the Russian Goliath met the Ukrainian David. Since launching its war in Ukraine on March 24, Russian forces have managed to seize only one major city, Kherson, as well as the ruins of Mariupol and parts of Donbass, the industrial region of the east of the country, partially occupied by Moscow ever since. 2014. This meager booty was obtained at the gigantic cost of between 13,000 and 20,000 dead soldiers in two months, a figure that exceeds Soviet losses in Afghanistan for a decade; the lives of 12 generals, 300 officers and 500 members of elite divisions, including around 20 pilots, according to the independent site Mediazone.
In 80 days of war, Russia lost the cruiser Moskva, flagship of the Black Sea Fleet and a dozen naval units, about 500 tanks and several helicopters. The fiasco was so gigantic that it's hard to find a Western general who doesn't declare himself "absolutely stunned".
"Until today, no one saw new generation weapons in Ukraine -like the Su-57 planes, the T-90 tanks or the guided munitions- that the Russian propaganda proclaimed us. On the contrary, Moscow sent old equipment of Russian-Soviet design, largely outdated by the effective military supplies sent to kyiv by the United States and Europeans," explains French General Dominique Trinquant.
"We are not facing a professional army. It's more like a bunch of unruly rubble," said Admiral James Foggo, former commander of US forces in Europe and Africa.
At the start of the war, the whole planet saw images of a gigantic column of military vehicles immobilized in northern Ukraine, while Russian officers used simple walkie-talkies communicate, allowing their Ukrainian adversaries listened to everything they said.
The result was a semi-retirement: Putin was forced to withdraw troops deployed around kyiv and the north of the country and retreat to the east to at least seize Donbass – partly in the hands of Russian separatists since 2015 -, and to the south try to establish a corridor with annexed Crimea. And the setbacks follow one another: on Wednesday, the satellite images of dozens of Russian tanks and armored vehicles destroyed during the unsuccessful crossing of the Donets River, once again demonstrated Russia's inability. In the episode, Moscow appears to have lost an entire battalion, around 1,200 men.
Contrary to what was thought, that Russia would support its entire military offensive with "devastating" cyberattacks, Moscow never succeeded in destroying Ukrainian communication and electronic control systems.. This threat has not materialized, probably because since 2015 Ukraine has enjoyed the support of all Western intelligence agencies, whose cyber warfare capabilities have a much larger contingent of talents and expertise North American tech giants.
Thus, a few hours before the invasion, Microsoft detected -and blocked- malware whose goal was to erase data from Ukrainian government ministries and financial institutions. In turn, SpaceX sent Starlink internet kiosks to Ukraine, to compensate for internet disruptions in the country.
Another Russian threat that went unmet was the the use of its air force, What never obtained control of Ukrainian airspace, even if Moscow has almost ten times more planes than kyiv. True, Russia launched a battery of missiles to disable radars and airports on the first day of the invasion. But this attack was not followed for a second, because Russia's arsenal of precision-guided missiles and other expensive munitions is limited. On the other hand, Russian pilots seem inexperienced, probably because, as with precision-guided weapons, effective training costs a fortune.
"Putin had the option of entering this war with a large number of these missiles or with a large stockpile of foreign exchange reserves. He opted for the latter. Now that half of the reserves are blocked by unprecedented Western sanctions, you must regret your decision", analyzes Colonel Pierre Servent, specialist in geostrategy.
And given Russia's limited ability to ramp up the production of weapons – especially the more sophisticated ones, which require inputs from abroad – its prospects for continuing its war in Ukraine look increasingly bleak.
"If the Ukrainians can hold out a little longer, this determination, along with potentially unlimited support from the West, will likely turn the tide of the war." explains Daniel Gros, specialist at the Center for European Policy Studies.
Yet Vladimir Putin continues to insist that "his special operation to denazify Little Russia (as the Russians call Ukraine) is scrupulously following the initial plans". A stubbornness that leads experts to ironically qualify the Russian armed forces as "Potemkin Army".
The term alludes to Grigory Aleksandrovich Potemkin, governor of "New Russia", who is said to have built fake villages out of painted cardboard to impress Tsarina Catherine II when, in 1787, he made an inspection trip to the recently acquired Crimea, with its neighboring territories. The history of the "Potemkin peoples" is largely myth and historians disagree on what the sovereign actually saw on her tour.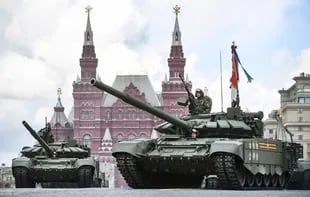 In fact, it seems that Potemkin made considerable investments in this region, but did not have the resources to join this new territory with the rest of Russia. Sixty years later, this fragile infrastructure, coupled with a failure to build logistical capacity, prevented Russia from defending itself against British and European armies during the Crimean War.
"Testimonies that Russian troops are now facing food and fuel shortages suggest that their armed forces have not learned their lesson since then. Logistics is still the sector most vulnerable to corruption in the military field", analyzes Servent.
Inherent in the system, in fact, corruption has for years undermined all the military modernization efforts of the Kremlin. It is estimated that only 10% of the Russian armament budget reaches its target. The remaining 90% disappear in the paths of corruption, present at all levels, both in military-industrial boards of directors and in unknown administrations. Even Anatoly Serdyukov, Putin's defense minister, was ousted in 2012 following a corruption scandal.